T
The cuff is having a moment this year. Not only will Gal Gadot as Wonder Woman be storming back on to our screens in her legendary bracelets of submission but Elsa Peretti's iconic Bone cuff, created at the height of the women's liberation movement, is celebrating its 50th anniversary. The style, which can be traced back thousands of years, has long had associations with power. First sported by the Ancient Egyptians and the Mayans, the cuff is a fashion item whose bold form has made it a highly visual indicator of status. Decorated in intricate symbols or patterns, it has also provided powerful links to a people's spiritual and cultural identity. Unsurprisingly, since the early 20th Century it has been the wrist adornment of choice for stylish women who refuse to bow to convention.
By the time of the First Dynasty (c 2680 BC) Egyptians were wearing rigid gold cuffs that opened and closed with a hinge. For the elite, those were often inlaid with stripes of semi-precious stones and a type of coloured glass that was first discovered in Egypt and initially extremely rare and expensive. In Mayan culture, elaborate gold jewellery played an integral role in the royal dress codes. An important indicator of rank, cuff bracelets would only be worn by the king.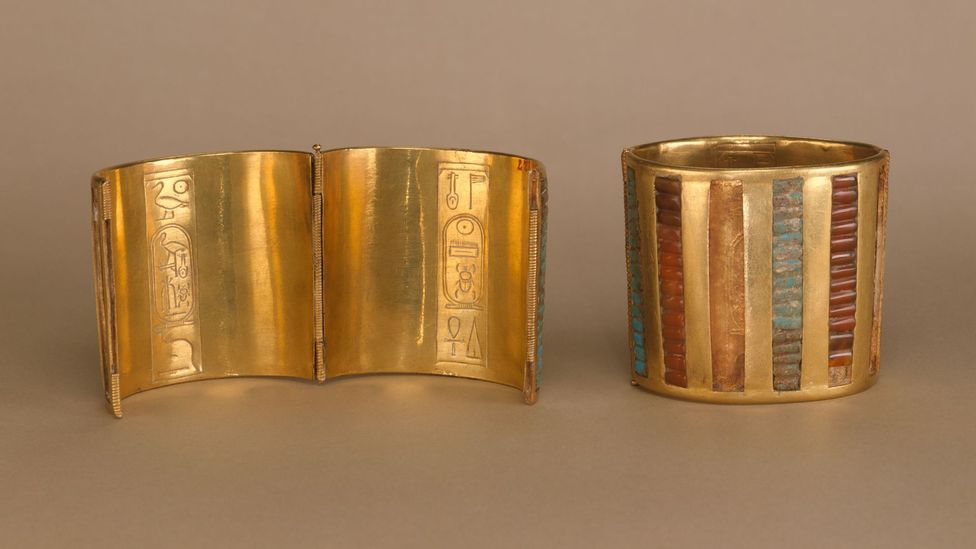 Ancient Egyptian hinged cuffs believed to have belonged to the wives of Thutmose lll, who ruled Egypt for more than 50 years (Credit: Met Museum)
However, cuffs did not have to be made of fine materials in order to indicate status. In the West African Kingdom of Benin, which reached the height of its power in the 16th Century, materials imbued with a spiritual meaning such as ivory, coral and brass were decorated with symbols that linked the Oba (king) with his spiritual counterpart, the sea god Olokun. This included the unusual combination of mudfish and the faces of Portuguese merchants, with whom the kingdom traded.
As Beth Carver Wees, curator of American decorative arts at New York's Metropolitan Museum of Art tells BBC Designed, "mudfish were amphibious, and they believed the Portuguese, who arrived in these big ships, were amphibious too". Both therefore spoke of the king's ability to cross between the earthly and spiritual realms.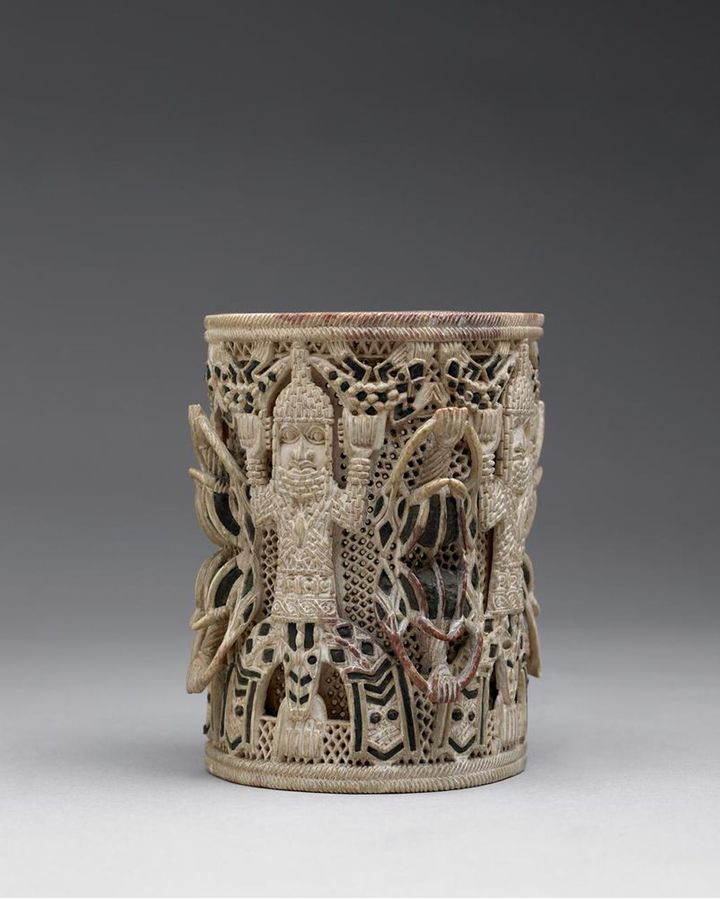 An ivory armlet depicts the Oba (king) of the African kingdom of Benin with symbolic mudfish legs (Credit: British Museum)
Carver Wees also points to the "magnificent" cuffs made by Native American jewellers, in particular those from the Navajo Tribe. Native Americans had worn cuffs of leather or finely crafted beadwork for centuries. In the late 19th Century they learned from the Spanish how to work silver, and began to craft beautiful designs featuring silver leaves, flowers and beads. These were often embellished with stones such as turquoise. These cuffs had a spiritual, aesthetic or monetary value. Multiple cuffs would be worn to show status as a matriarch or patriarch.